Anna LaRue, a marketing-turned-art major who is in her fourth semester at Rutgers–Camden, grew up hearing her mother's happy memories of her time at Rutgers–Camden. Erin Lewis, who earned a bachelor of arts in English degree in 2001, "loved her time at Rutgers–Camden, particularly working on the school paper, The Gleaner." Erin started as a staff writer, working her way up to editor.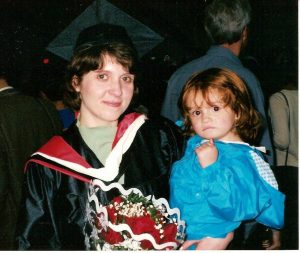 Reading and writing were always some of Erin's favorite hobbies, so majoring in English was a natural fit. Erin took many classes with Dr. Carol Singley, Professor of English, and was excited to see that Anna also enrolled in a class with Dr. Singley in the Fall 2018 semester. "Dr. Singley was always my favorite teacher at Rutgers–Camden," Erin says. "She introduced me to one of my favorite authors, Edith Wharton."
The class Anna took with Dr. Singley was "Texts and Adaptations," a course that examines both works of literature and their film adaptations. Erin was glad to see her daughter had a positive experience with Dr. Singley, too. Anna says, "Dr. Singley made me redevelop my love for reading. Getting to analyze movies and books in class was super enjoyable." Anna so enjoyed the class with Dr. Singley that currently she is participating in a Learning Abroad course with Dr. Singley and Dr. Keith Green, called "Writing Revolutions: Literatures of Revolution in Philadelphia and Cuba." Anna is very excited about the trip to Cuba, which will take place over Spring Break.    
For Dr. Singley, a professor who has made such an impression on these students, she says, "I feel privileged to have taught Erin and Anna. They put high energy into their studies, and their experiences tell a continuing story of how Rutgers–Camden serves the region and state."
The "Texts and Adaptations" class also helped Anna realize that switching to an art major was the best move for her. "I've always had a passion for art [but] I didn't ever have free time to practice photography, painting, or any other of my pastimes. Switching my major was definitely the right move for me and now I get to go to school for something love, which is really exciting."
Spring 2019 will be Anna's first semester as an art major, and she says, "I have very high hopes for this year. I'm most excited for the [classes] pertaining to my interests, photography and painting. Rutgers–Camden has a lot to offer with these courses so I am excited to learn a lot from many different artists and professors."
Anna is well on her way to making her time at Rutgers–Camden as enjoyable and happy as her mother's time was.    
Written by Julie Roncinske