The Honorable Victor Carstarphen, Mayor of the City of Camden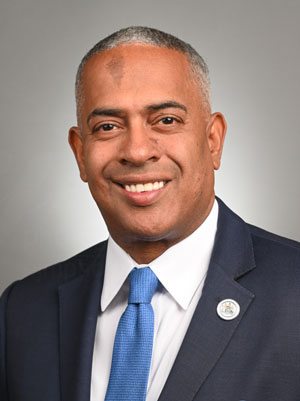 Mayor Victor G. Carstarphen was born and raised in Camden, New Jersey, and a proud graduate of Camden High School, class of 1988.  In 1993, he received a degree from Temple University's Fox School of Business.
As a Senior Associate for Holmes & Company LLC, a Certified Public Accountant, Mayor Carstarphen worked with a broad range of clients. His duties included reviews of internal controls, Agreed-Upon Procedures (AUPs), Forensic Audits, Performance and SOC 1&2 Audit engagements. Victor has also been on audits of Financial Management Systems of Transit Authorities. His involvement on SOC 1 audits covered IT control areas such as technology management, Client Portal Reporting, Information Security, Physical Security, Incident Response, Database Access, Encryption, Workstation Access, Antivirus, Network Security, Access Firewalls, Application Security, Change Management control, Data Retention and Backup, and Disaster Recovery and Business Continuity.
Prior to working at Holmes and Company, Mayor Carstarphen was President of Academics First, an educational tutoring company that provided free after school tutoring services for students K-12 in schools throughout the City of Camden. He also coached the Camden High School Boys Basketball team, where he served 5 seasons as an assistant coach, with his last year serving as Head Coach. His passion for Camden City has always been on display in serving our youth.
Mayor Carstarphen was one of the most decorated basketball players in Camden High School history. He is 4th on Camden High School's all-time scoring list with 2,136 points, and starting point guard on the 1986 USA Today #1 High School Basketball Team in the country. He played all 4 years for the Camden High Varsity basketball team, and was a 3-Time All-South Jersey selection, and 2-time First-team All-State selection.
At Temple University he enjoyed a fine collegiate basketball career as a 3-year starter under Hall of Fame Coach John Chaney. Was captain for 2 years, and helped the team advance to 2 NCAA Elite Eight games in 1991 and 1993.
Mayor Carstarphen was a 10-year proud board member with the Camden Educational Foundation, which helps to provide college scholarships for 25 high school graduating students each year in the Camden City School District.  Victor Carstarphen was appointed to Camden City Council as the 2nd Ward Representative on January 3rd, 2020. On May 11, 2021 Camden City Council voted to appoint Councilman Carstarphen as Mayor to fill the unexpired term created by former Mayor Frank Moran.  On January 1, 2022, Mayor Victor G. Carstarphen took the oath of office as Camden's 50th chief-elected official in City history.